What To Do In Brasov While On A Yoga Retreat in Transylvania
As you all probably already know, Brasov is one of the most visited cities in Romania. Apart from its history, impressive natural surroundings, buildings architecture, culture, and urban fun, it is also very close to the greatest 13th-century palace, known far and wide as Dracula's Castle.
What happens however with those who are coming for a Yoga Retreat in Transylvania and a visit to the famous castle, but forgot to create an itinerary for the city of Brasov, the most popular getaway destination in Transylvania?
Not to worry, you don't have to spend endless hours researching the internet for the best historical places to visit or where to eat the best Romanian food while in Brasov. As a local, I am here to share with you all the answers, as well as some valuable tips. So, stay with me as I take you along with me on a great adventure in Brasov, as it has plenty to offer!
Medieval Landmarks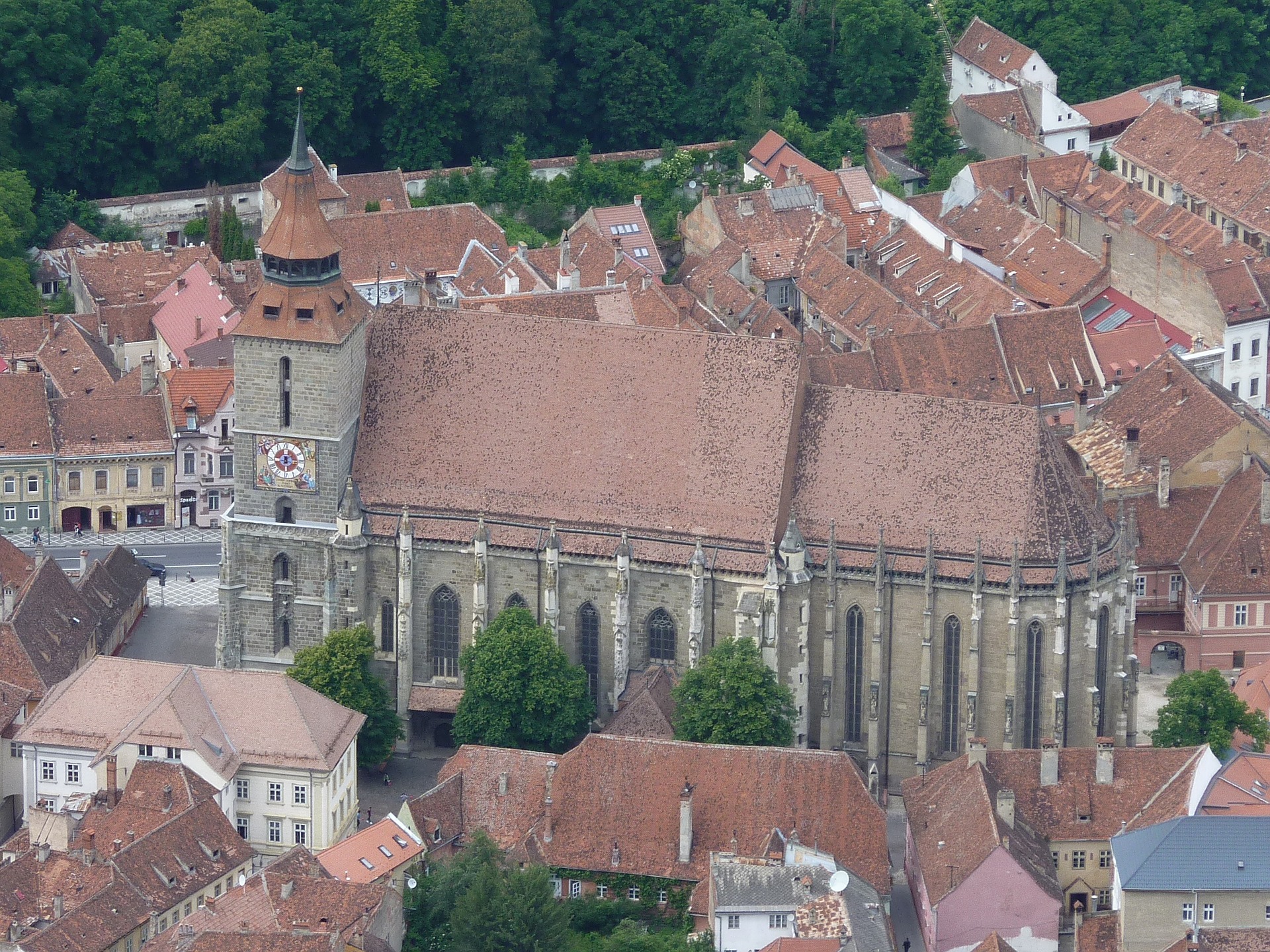 We will start of course with the most popular medieval monument in Brasov, Black Church. Over 600 years old, Black Church is one of the most impressive Gothic-style buildings from Eastern Europe. The Great fire of 1689 caused serious damage to the church and it destroyed almost the entire city. Even though its original name was Saint Mary, soon after, its name changes to "Black Church" as the walls were blackened by the flames.

Not far from the Black Church, we can see the Council Tower. This is another iconic attraction, part of the old city center. Back in the 15th century, the Tower was the headquarter of the law court and was used as an administrative building until 1923. It was restored many times and today, we all know it as the "Museum of History". It offers an "out of this world" panoramic view over the Council Square and the center of the city (known as the Km 0). That is actually the center of the city where people get together no matter if it's the holiday season, random concerts, Cultural events or just a simple walk.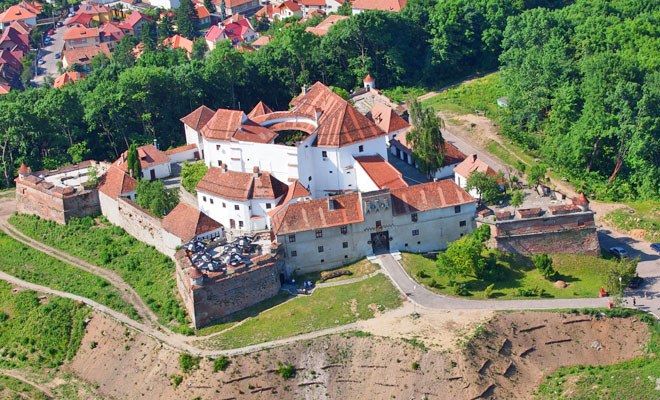 Located on a hill which you can easily see, "Cetatuia" is a circular tower and was Brasov's fortress for a long time. It was used for centuries as a defensive mechanism. It has a very long and interesting history and it was even used as a prison.
Streets and Architecture
Walking on old streets in Brasov can be very challenging but indeed beautiful. The buildings are bordered by splendid examples of Saxon architecture and their colors give the city a beautifully blended harmony.
Rope Street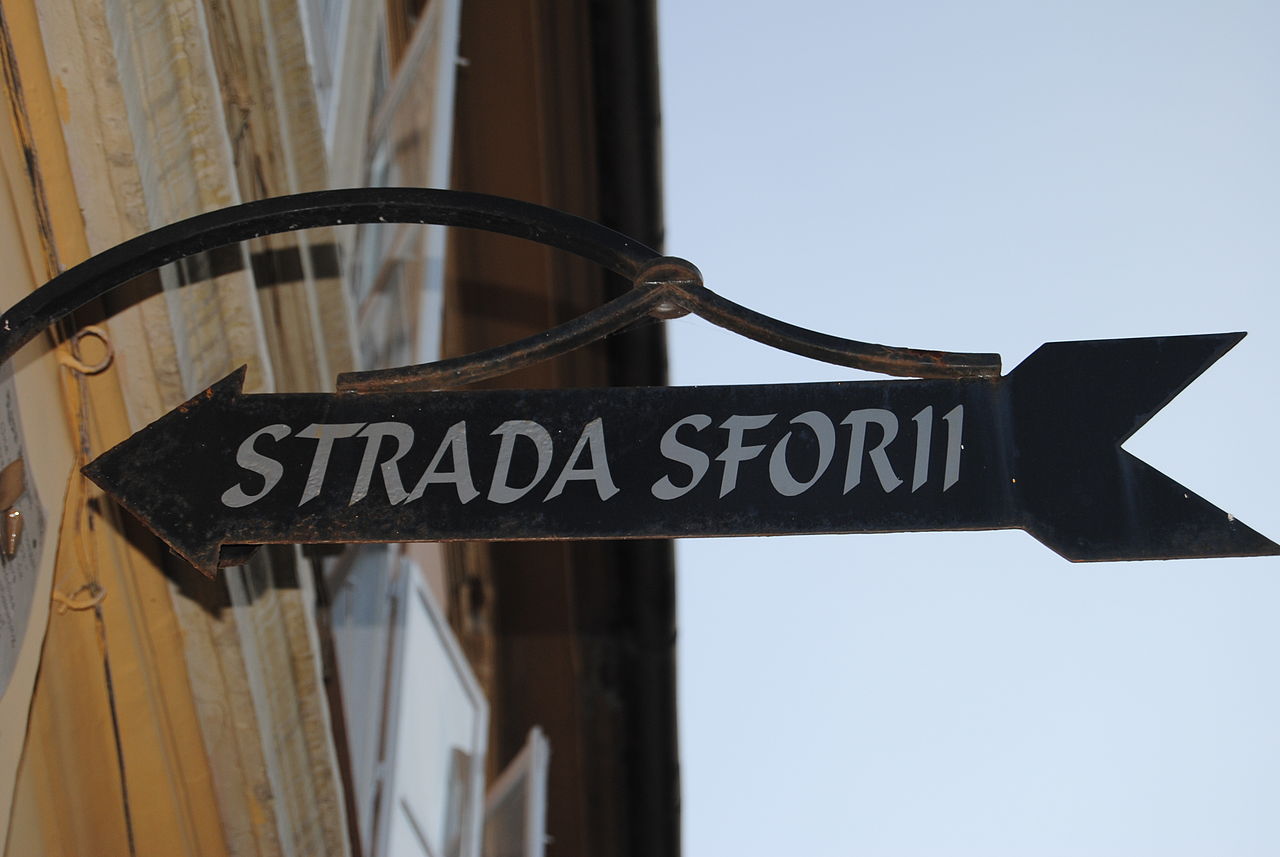 We already know that Brașov is overall a standout location within mountainous central Romania and that it went through plenty of battles and struggles.
On top of the peculiar architecture that comes with a fascinating and unique history, the town is very proud to feature one of the smallest streets in Europe, and the world called The Rope Street (or Strada Sforii). Its width varies between 111 and 135 cm or (44 and 53 in), and it is 80 meters (260 ft) long, the street became tourists' favorite attraction, lovers' meeting place and it is definitely photographer's favorite subject.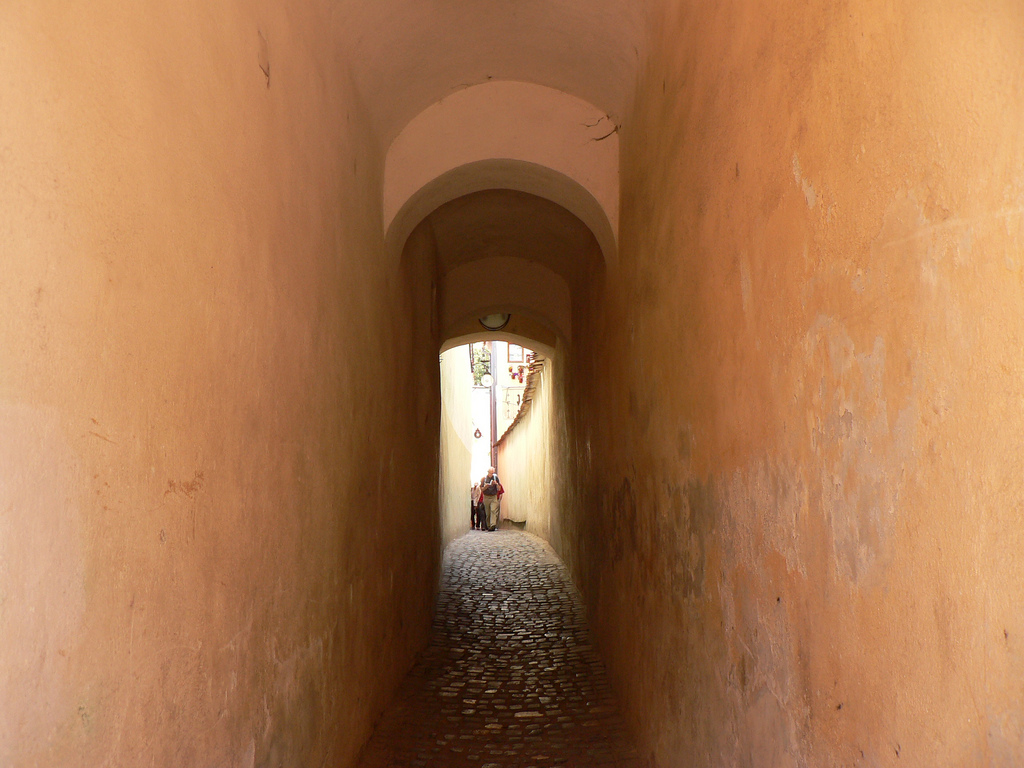 Walk around Brasov's fortifications
Considering its long history, the Saxons who lived in Brasov decided to build huge defensive fortifications.
Behind the Walls Street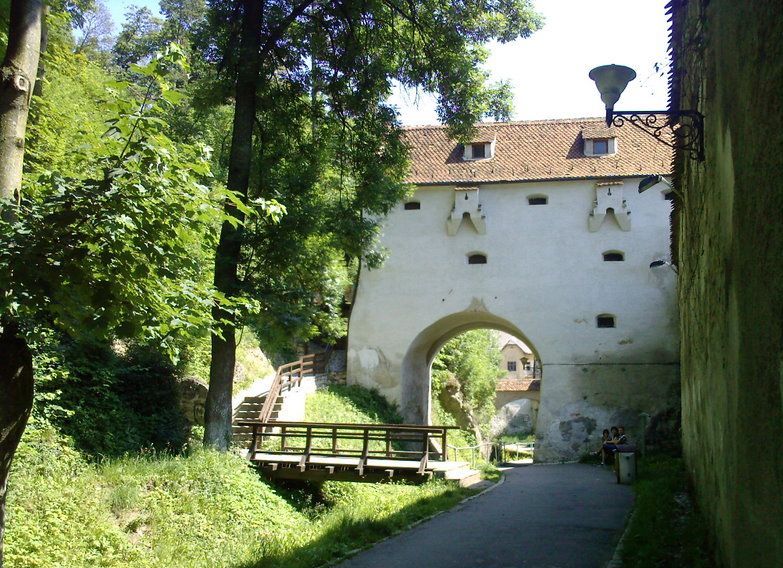 This is a beautiful street in the city center of the city where you can enjoy nature and enjoy a calm and nice walk. From this street, you will have easy access to the fortifications I just mentioned.

Fortifications
The White Tower and the Black Tower are amongst the famous buildings in town. Don't spend endless hours looking for the Black Tower though because its color was never black. Similar to Black Church's history, the tower's roof was destroyed by a flash of lightning and later on, its walls caught fire, hence the name.
Hungry?
Romania was affected by the communism which had a big impact on local food too. This, of course, caused a delay of the arrival of supermarkets or fast-food chains, a reason why you can still eat organic and naturally grown food with few to no additives here. No wonder why the number of people that choose to visit Transylvania for a Yoga and Detox Retreat.

As amazing as this sounds, when visiting a city and you find yourself in a rush, choosing the right place can become a really tough journey and that is only because we all know the struggle of choosing an amazing restaurant. As a local, I can recommend you to choose those restaurants that are serving Romanian Food (You are in Romania after all). No worries if you are not a fan, the dishes can be adapted to your personal taste.
Rawdia

This vegetarian and raw-vegan restaurant, Rawdia, is located in the city center on Apollonia Hirscher 7 Street and you can easily have access to it. Starting from music, food, appetizers, this store is the place where you can find either raw or vegan raw ingredients and foods that share with you the same beliefs about a healthy and clean way of life. In this small restaurant you can find amazingly delicious food and superfoods, specialties of leavened bread with lettuce, snacks, raw bread, pates, creams, soups, salads, desserts and juices & smoothies.

2. Simone
Raw Vegan Salad
Photo Credit: Simone
Raw Vegan Dessert with pistachio, amaranth, persimmon & turmeric
Photo Credit: Simone
This becomes personal. It is one of the bests restaurants in Brasov and one of my favorite. The serving is really fast and delicious, the restaurant is really cozy and what is important for me is that it is a very clean place. If you don't know where you're going, any road will take you to this restaurant. It is also located in the city center on Politehnicii 6 Street.
3. Delicious Raw
Vegan "Meatballs"
Photo Credit: Delicious Raw
Chocolate & Karawmel
Photo Credit: Delicious Raw
If you are not hungry but still in the mood for a dessert, this is the option for you. This family business restaurant is specialized in serving a lot of raw superfoods. Yes, you read that right. They are specialized in desserts but however, they serve amazing breakfast and lunch as well. They are also located in the city center, close to the Council Square, on 12 Michael Weiss.
4. Bistro de l'Arte
Bistro de l'Arte is a muti profile restaurant in Brasov. It is also located in the city center and you can find all sorts of food. From vegan to vegetarian or a simply nice burger, this restaurant has it all. They are here for more than 19 years and always been on top of the local restaurants.
Wanna have some fun?
Aquarmony is the first float tank concept in Romania and it is suitable for all ages. There are several large hot tubs containing one tone of water where you will find dissolved almost 500 kilograms of Epsom salts. These magnesium salts will keep you floating 25 cm above in a state of imponderability. These types of therapies have different health benefits such as physical health, relaxation and freedom. The physical benefits are the most visible ones because floating is an alkaline solution of concentrated magnesium salts that will allow your muscles, spine and bones to relax by absorbing the magnesium that the Epson salts contain, therefore, balancing the mineral level your body contains. The prices are really affordable starting from 100 RON (almost 20 Euros/session) and the staff is just awesome. Happy floating!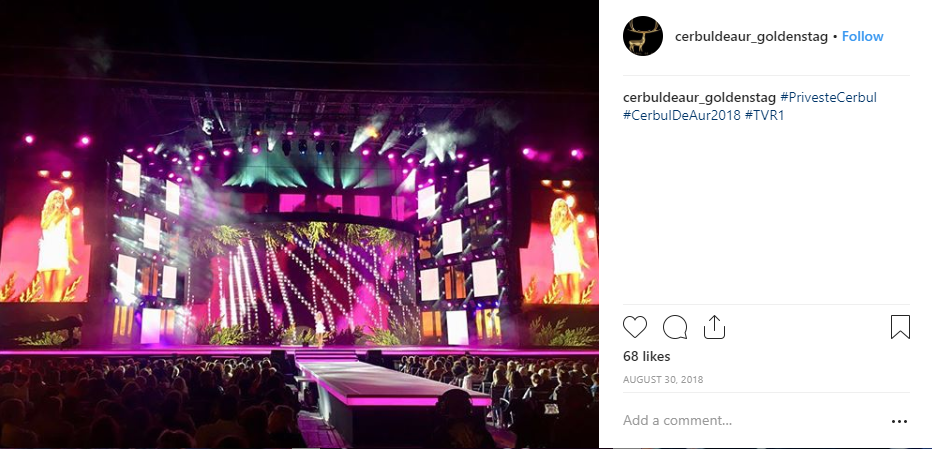 Photo credit: Golden Stag Instagram
A Yoga Retreat is definitely something that we all need, however, a little bit of fun will not harm anybody. Brasov have been really proud by its international festival "Golden Stag" or "Cerbul de Aur" as we call it. On this stage, international artists such as James Blunt or Pink have performed.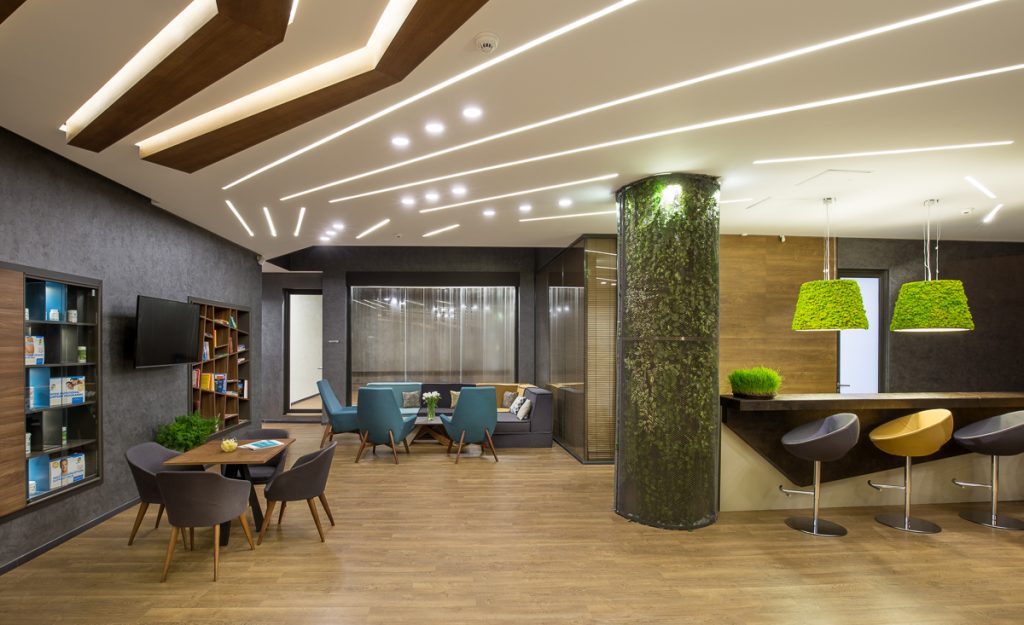 Atasagon Wellbeing, Detox & Spa

Atasagon is the place to be. With 2 dedicated concepts of wellbeing and detox. You can try their awsome green juices that goes along with their raw food detox or you can combine these elements with a nice yoga class, sauna and a body therapy.

Winter, Sky or Snowboard? Yes, please!
Brasov may not be a metropolitan city but when it comes to winter sports, it's the real deal. With some of the best slopes in Romania, Poiana Brasov is the place to be. The prices are acceptable and it promises a lot of fun.
Brasov is a city you can easily fall in love with. While it is not a big city, you can definitely relax and enjoy its natural beauty. It is an amazing base for exploring the surrounding countryside where the air is clean, people are amazingly friendly, and where you will feel and be 100% safe.